Brisbane – 24 July 2021 – A Diversity of Australian Voices
Hosted by the Dante Alighieri Society of Brisbane
2-4pm Saturday 24 July 2021
Dante Alighieri Society Cultural Centre, 26 Gray Street, New Farm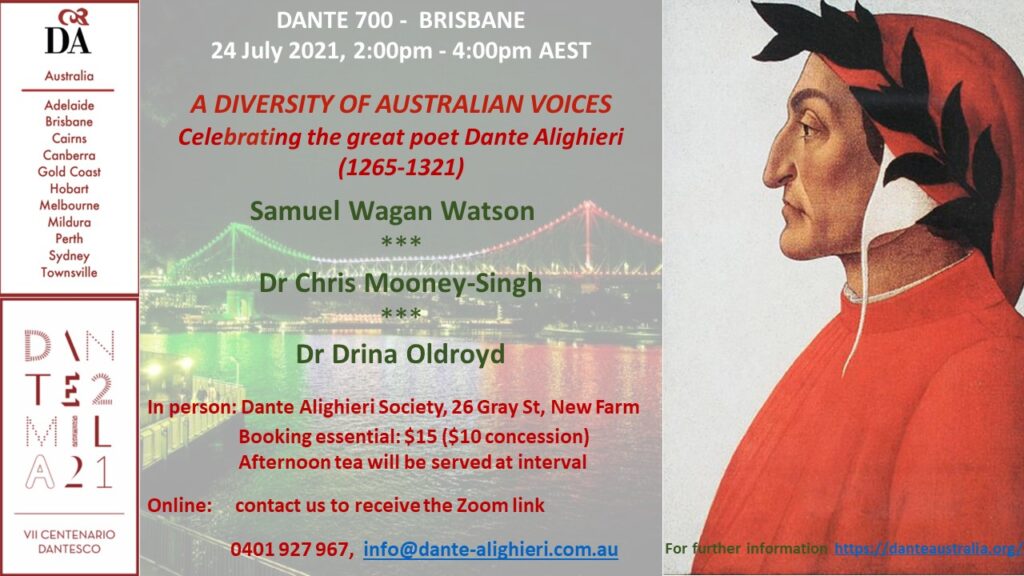 Mr Samuel Wagan Watson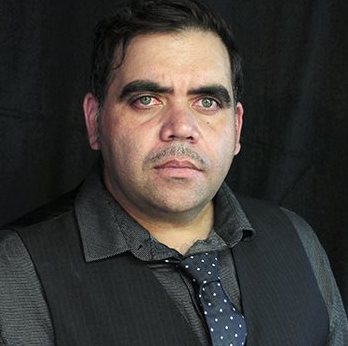 Samuel Wagan Watson is an award-winning Indigenous poet, essayist, scriptwriter and professional raconteur. Born in Brisbane in 1972, he is of Munanjali, Birri Gubba, German and Irish descent. Samuel's first collection of poems, Of Muse, Meandering and Midnight, won the 1999 David Unaipon Award. His fourth collection, Smoke Encrypted Whispers, won the 2005 NSW Premier's Award for the Book of the Year and the Kenneth Slessor Prize for the poetry book of the year. Smoke Encrypted Whispers has also been set to music by 23 Brisbane-based composers. For the Melbourne Writers Festival in 2013 Samuel was one of eight Australian writers invited to create and present a work taking inspiration from Dante's Purgatorio to reflect on the contemporary world. Samuel has toured Australia extensively as a writer, has been writer-in-residence at a number of institutions and has toured New Zealand, Germany and Norway to promote his work. In 2018, he received the prestigious Patrick White Literary Award for his significant contribution to Australian literature.
Samuel Wagan's presentation can be viewed at the Dante Brisbane Facebook feed here: https://fb.watch/7wqD1ZIIfi/ and below:
Heavens and Hells, Western and Eastern
An allegorical look at Alighieri Dante's La Divina Commédia and Harold Stewart's Autumn Landscape Roll
Dr Chris Mooney-Singh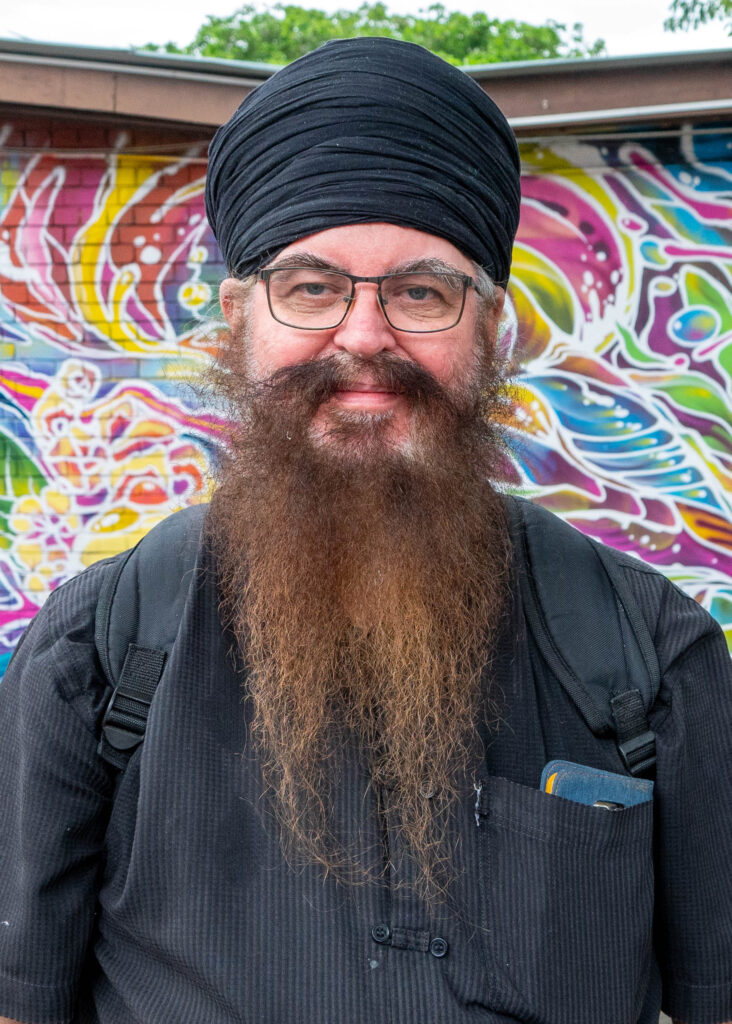 In this presentation Dr Chris Mooney-Singh considers the impact of Dante's keystone work as an architectonic blueprint for Harold Stewart's 'Buddhist Divine Comedy.' He shares his views on why the Commédia became an important source for the Australian expat poet who spent his final thirty years residing in Kyoto, Japan as a practicing Pure Land Buddhist. Mooney-Singh also investigates Autumn Landscape Roll as a gateway work for Australians to reflect on their geo-cultural relationship with the Asia-Pacific region.
Chris Mooney-Singh is a poet, fiction writer and part-time academic. He completed his doctoral study Asian Expatriate Immersion in the Later Works of Harold Stewart at Monash University in 2015. Mooney-Singh's verse novel was commended in the unpublished fiction category of the Victorian Premier's Literary Awards of the same year. Just as Harold Stewart was, Mooney-Singh is still an expat Australian writer located in Asia. His last poetry collection was The Bearded Chameleon and several of his stories have appeared in regional anthologies including The Best Asia Speculative Fiction and Crime Scene: Singapore. Mooney Singh's first short film Looking for Mr Gelam was released in 2021. Dr Mooney-Singh teaches MA Creative Writing at Lasalle College of the Arts, has mentored three Singaporean national Artist-of-the-Year awardees, and is a founding co-director of The Writers Centre, Singapore.
Chris Mooney-Singh's presentation can be viewed at Dante Brisbane's Facebook feed here: https://fb.watch/7wrp9puYy_/ and below:
Reception of Dante Alighieri in the Australian community
Dr Drina Oldroyd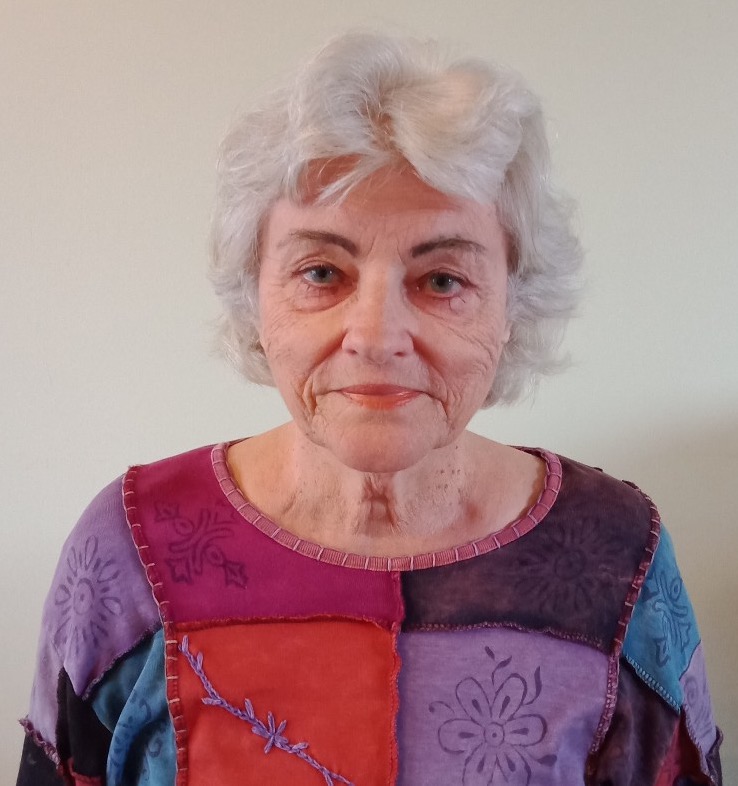 The perspective I would like to present is that of the response of Australians of different backgrounds to the Divine Comedy. I have facilitated reading groups on Dante at the Brisbane DAS and the University of the Third Age for many years and for my presentation I sent students in my two current (but suspended) U3A classes a set of simple questions to answer briefly or expand as they wished. I was pleased when over half replied. When I lectured at Melbourne and La Trobe Universities on Dante as part of an Arts degree in Italian, I found that many young students had no idea who Virgil was when they met him in the first canto of the Comedy. Many U3A students, however, some of whom have degrees in medicine or the sciences, were delighted to reconnect with the heroes and legends of their secondary schooling in Latin and the Classics. Furthermore, older people attracted to the idea of reading Dante, whether or not they have been to University, usually have years of serious reading behind them, a love of poetry and the comprehension of those who can look back on their own experience "del cammin di nostra vita" ("of our life's journey", quoted from the first line in the Divine Comedy).
After touching on my choice of the English translation by Mark Musa, Penguin Classics, for the U3A classes, I will briefly discuss three Australian translators of Dante: Prue Shaw, who translated Dante's Latin political treatise De Monarchia (1966), her husband, Clive James, who translated the Divine Comedy (2013), as did Sir Samuel Griffith (1911), all graduates of Sydney University. Sir Samuel worked on his translation over many years for respite from his busy political life as Premier of Queensland, Chief Justice of Queensland and Chief Justice of Australia. He died in 1920 aged 75 at his home in New Farm, the leafy inner-city suburb where many Italian migrants settled and where the Brisbane DAS is located today.
---
Drina Frances Oldroyd was born in Blackpool, England in 1939 and migrated to Brisbane with her family in 1956 where she befriended two migrant Italian families and began to teach herself Italian. From 1975 to 1981 she undertook studies for a BA (Hons) at the University of London after which she spent three years at the University of Cambridge researching for a doctorate on the influence of pro-Imperialist pseudo-Joachite prophecy (medieval fake news!) on Dante's political writings which was awarded in 1990. She published her findings in the essay collection Dante and His Literary Precursors, University College Dublin Foundation for Italian Studies, 2007.
Drina enjoyed teaching language skills, both English in Italy and Italian to English speakers, and felt privileged to share her passion for Dante in her lecture courses at the University of Melbourne and La Trobe University. She organised Dante reading groups, in Italian at the Brisbane Dante Alighieri Society and in English at the University of the Third Age, and has given seminars and introductory talks on Dante to various groups and societies.
Drina Oldroyd's presentation can be viewed at the Dante Brisbane Facebook feed here: https://fb.watch/7ws2qCQClo/
and below: